Gin o'clock, gene editing and Japan's bread renaissance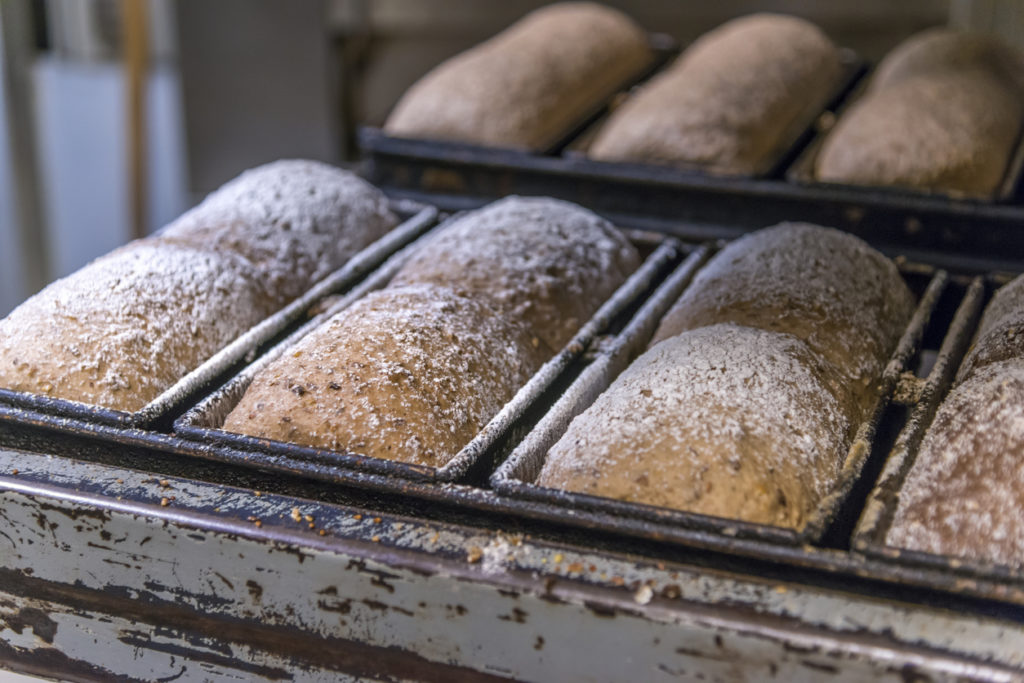 One Welsh pie and pasty outlet is becoming creative, finding cool new ways to transform unwanted bread into beautiful booze. Gene editors are working hard to develop breads without side effects for intolerant and allergic people. And Japan's artisan bread scene enjoys a rebirth. Here's the news.
Is it a bird? Is it a plane? Is it a loaf? Nope, it's a bottle of gin!
The brilliant Swansea-based Lewis Pie and Pasty Company has partnered with the equally dazzling Coles Brewery and Distillery, of Carmarthen, to make gin from unwanted bread. It's the latest in what's starting to look a lot like a trend for cutting food waste sustainably.
The resulting drink is called Bakery Gin, actually produced at Coles Distillery in Llanddarog. They're using day-old bread from Lewis Pie and Pasty Co, which is first transformed into beer before being re-distilled and boosted with the botanicals needed to create a particularly tasty 'Mother's Ruin'. The resulting tipple is apparently 'light, clean and fresh' flavoured with juniper and citrus, and bottled at a good, powerful 37.5% ABV.
The bakery, which dislikes waste, had struggled until recently to estimate the quantity of produce to bake, and has long been overproducing slightly to make sure supplies don't run short. In a world where an estimated 900,000 tonnes of bread are wasted annually, a scandalous 44% of the total produced, it's fantastic news.
If you fancy test-driving Bakers Gin, it's on sale in Co-Op stores across the nation. They join the Suffolk brewer Adnams and plenty more businesses brewing with unusual raw ingredients. Adnams is currently making three bread-based beers for sale in M&S, made from leftover loaves from the retail giant's sandwich-making activities. And Kellogs is collaborating with the Salford brewery Seven Bro7hers to make beer from sub-standard cornflakes.
Scientists edit genes and use enzymes to create allergen-free bread
Researchers and food companies around the world are busy creating breads everyone can eat. Take the Finnish company Fazer Mills, whose new enzyme called LOFO helps reduce fructan in wheat bread, making it suitable for for people with IBS. At the same time Dan Voytas at the Genetics, Cell Biology and Development Department of the University of Minnesota and his team are busy developing a reduced-gluten wheat thanks to CRISPR gene-editing technology, creating bread that's suitable for those with a gluten sensitivity.
Other scientists are adding stuff to bread to make it 'healthier'. Take those with type 2 diabetes, a huge and growing audience for whom ordinary bread is tricky because it's high in carbs, which in turn raises their blood sugar levels. Some bakers in the EU are experimenting with tritordeum flour, made from a new wheat and wild barley hybrid that delivers 30% more fibre than traditional wheat flour. And others are adding extra fibre via lupin bean and lentil flour blends, which help reduce the risk for type 2 diabetes and heart disease sufferers.
Japan enjoys a dramatic bread renaissance
Japan traditionally has a rice-based culture, but they've been growing wheat on and off since 300 BC. When the Portuguese missionaries finally made it to shore in 1543, they inspired the locals to make bread. The trend died out fast when the Edo period began, a time when foreign influences were frowned upon and bread as we know it disappeared from the country's menu.
In 1868 the Meiji Restoration encouraged wholesale Westernisation. It ushered in a very different diet and bread as we know it fast became a Japanese staple. Initially they baked bread to Japanese tastes, leavening it with sakadane, a starter made of koji mould and rice. But this ultimately morphed into the horrid Chorleywood Method bread we get in supermarkets, mass-produced and highly processed.
Now it's time for another big change as the nation's more progressive areas become home to a flurry of new artisan bakers making breads using home-grown, often organic ingredients, many with a fascinating Japanese twist. Nowadays Tokyo has an impressive artisan baking culture, and even holds a bi-annual bread festival or Pan Matsuri.
Taste the difference with Speciality Breads
We combine the very best elements of traditional baking with contemporary food trends to make a range of totally gorgeous breads and sweet bakery products. They're hand-crafted wherever possible. We work hard to keep real bread making skills alive. And our insistence on the finest raw ingredients means you can taste the difference. Get in touch and we'll send you a generous free sample box of goodies to try for yourself.