Bread cheese, The Great Irish Bakery Report, gluten-free science and more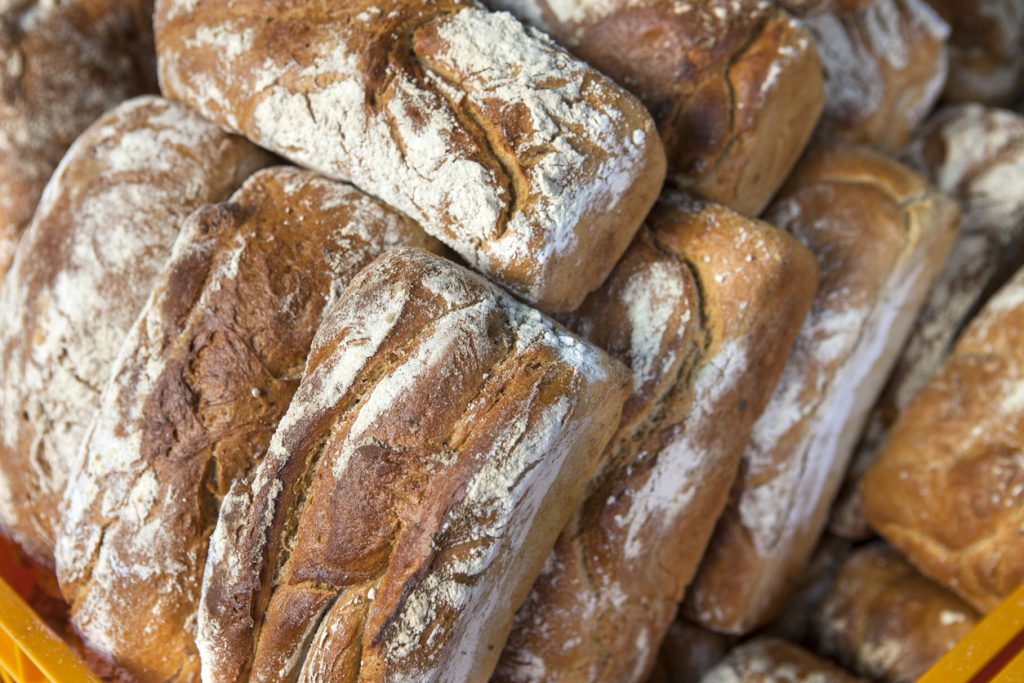 Have you heard of bread cheese? It's a thing in the USA, and you can read about it here. You can also find out what the Great Irish Bakery Report has to say, and what the egg-heads have done to make gluten free breads faster and more easily. And you'll know all about the new bench knife design that's making waves in American bakeries. All this in one wafer-thin news item? Blimey. Enjoy!
Meet a new bakery trend in the making – It's stinky Wisconsin bread cheese
The Brunkow Cheese people visit Chicago every year, making their way from south west Wisconsin to set up shop in the city's larger farmer's markets. Brunkow's signature baguettes are apparently a big thing, involving scraping melted cheese onto the baguette.
So what? So the cheese they use is not the awful 'American' cheese that bears so little relation to the proper cheeses we know and love over here. This is an authentic cheese with European roots called juustoleipä. Pronounced hoo-sta-lee-pah, the name means 'cheese bread' in Finnish. It's also called Leipäjuusto, which is equally tricky to pronounce.
Juustoleipä cheese was traditionally made from reindeer milk, a very simple cheese created by grilling pressed curds. There are no active cultures in it, just rennet, and the lack of acid means it's soft in the centre but never completely collapses. And it has a lovely squeaky curd-like texture, too. It tastes mild and buttery. When toasted or grilled it goes crisp on the outside. The Finns eat it for breakfast, but others cut it into cubes to eat with toast. Whatever floats your boat, it tastes great.
Prove It: The Great Irish Bakery Report
A fresh report from Délifrance highlights how fast things are changing in Ireland's bakery sector. It looks like 'artisanal experiences', health and wellness, veganism, and a growing demand for a wider variety of flavours are changing consumer demands.
The Republic of Ireland's bakery market is worth €1.1bn at the moment, it's growing fast, and the insights in the report give industry players vital clues about what direction to follow next. It looks like 45% of consumers in Eire are eating bread products every day, 41% 'a few times a week'. Freshness is one of the biggest consumer priorities as regards fresh bread at 70%, fresh viennoiserie at 72%, and fresh savoury products at 68%. 49% would buy more pâtisserie products if there was a better choice of healthy options, and 32% would buy more if there was a better choice of flavours. 44% of Irish consumers eat savoury pastries at least once a week and just under 40% choose them for lunch.
The findings were generated from answers provided by 1,000 adults via the social listening tool Delve Insights plus insight, opinion and external market data from Délifrance and various other bakery operators.
Scientists create better gluten free bread
According to Popular Mechanics magazine, gluten-free bread, important for people with certain allergies and conditions, is no longer quite so time consuming to produce. Scientists have successfully made gluten-free bread using Ohmic heating, where the bread itself conducts electricity. The bread they baked using the method had more volume and better uniformity than usual, as well as taking 'less time and energy' than traditional methods.
A team from the Institute of Food Technology of the University of Natural Resources and Life Sciences in Vienna used electric shocks to heat gluten-free bread doughs from the inside. Ohmic heating is also called joule heating and involves passing electric currents pass through a conductor so that the passage itself generates heat via Ohm's Law.
The heat is generated instantly within the dough, unlike an ordinary oven which requires more time because it has to penetrate the dough from the outside. Preparing gluten-free bread also takes around twice as much water as wheat-based bread, takes longer to bake, and watery bread is far from ideal. Ohmic heating uniformly heats every part of the bread at the same time, and the team felt their Ohmic bread presented 'a superior option' as well as reducing the time and the energy needed to bake a loaf by as much as two thirds.
Challenger Breadware launches an innovative new bench knife
Perishable News https://www.perishablenews.com/bakery/introducing-the-challenger-bench-knife-for-bread-bakers/ tells us about the new bench knife from Chicago's Challenger Breadware. They're calling it 'a large, handcrafted kitchen solution for home bakers and chefs at small bakeries and restaurants around the world', and it has been created specially for capacity and comfort, designed for dealing with delicate dough.
There's a 10cm x 20cm non-stick blade, bigger than most bench knives and dough scrapers, and this lets bakers scale and separate dough more easily. Apparently they've spent countless hours designing the Challenger Bench Knife, and they're fully confident that bread bakers will find it extremely useful. Add 'heirloom quality' to the mix and it looks like a classy piece of kit.
It matters because the bread making process sometimes requires the utmost care to create a beautiful loaf. A great bench knife makes all the difference, so much better than a standard dough scraper that's either too short for large amounts of dough, too narrow to let you pick up and move dough gently enough, or too prone to sticking.
The best artisan breads – Test them for free!
You can taste the love we put into our glorious artisan breads. No wonder the food service sector has beaten a path to our door. Just ask for a generous free sample box, delivered free to your doorstep. Then you'll know what all the fuss is about.