Earth sandwich, tobacco bread, Veganuary and Parker House Rolls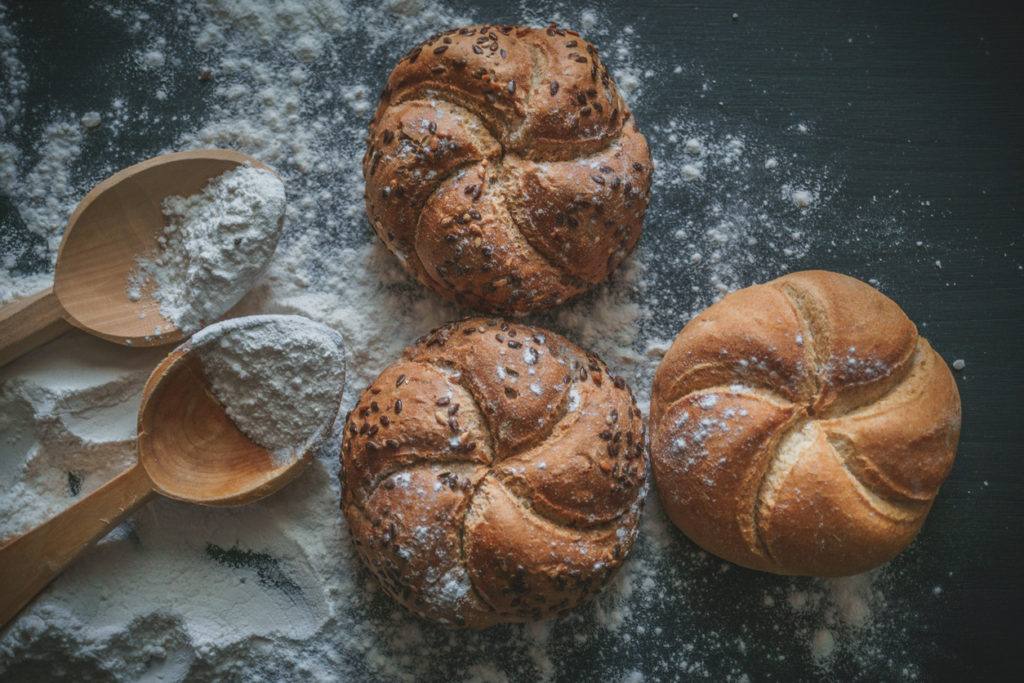 The New Year has treated us to lots of wonderful fresh bread stories. Two strangers on different sides of the planet have made an Earth sandwich. In Wales a slice of white has turned up in a pack of baccy. Greggs' new Vegan steak bake has proved a massive hit. And a new trend for an old favourite is changing the face of posh eating-out in the USA. Welcome to 2020.
White bread discovered inside a pack of Amber Leaf
Thanks to Wales Online for providing the latest in a venerable trend, the practice of secreting slices of bread in eccentric and unexpected places.
When one man opened up his brand new £22 packet of rolling tobacco he discovered a sneaky slice of white inside, only found when he opened the pack in the pub the next day. There was no tobacco in the pack, just the bread. It seems unlikely that a lone slice of white should find its way naturally onto a conveyor belt at Amber Leaf's factory, so we can only assume it was done by a witty employee for a lark.
The man, who is from Merthyr, said he returned the baccy packaging and its incorrect contents to the supermarket customer services desk, and they replaced it with the real deal. There's no news about what happened to the bread.
Strangers make an Earth sandwich on opposite sides of our planet
Two men from different sides of the world have made an Earth sandwich by lying a slice of bread on the ground in precisely-opposite places. Etienne Naude from New Zealand put his side of the buttie carefully on the ground in New Zealand, while Angel Sierra from Spain did exactly the same on the other side of the globe. The resulting sandwich's filling was an impressive 7,890 miles thick. Yum.
Mr Naude calculated both locations painstakingly using the online tool Tunnel To The Other Side Of The Earth, a bit of fun that tells you what's on the opposite side of the earth to your location. He found his partner Mr Sierra via a Spanish message board on Reddit. Eight weeks of planning and one failed attempt later, the pair nailed it despite being a couple of complete strangers who live 12,427 miles apart.
Both men used the same type of bread and Mr Sierra claimed the sandwich was the best he'd ever made, a decent accolade considering he's a chef. He called it, "Not juicy nor dry, not too spicy nor bland, it has all the toppings and all the sauces in it. I can't do it better."
Greggs sees huge queues for their vegan steak bake
Having launched a brilliant range of Vegan artisan breads, we were wondering how many people would go Vegan for Veganuary. Now we know. Apparently more than 300,000 people have officially signed up for this year's Veganuary, and Greggs is already seeing the benefit. When they launched their Vegan steak bake late at night on 2nd January all hell let loose with people queueing patiently for at least twenty minutes to test drive the new treat, which is made using Quorn, diced onions and gravy.
Parker House Rolls make a strong come-back in the US
As reported by The Edge Markets, while US bread sales are stagnating, one very basic type of white dinner roll has found its way back into favour, particularly in super-smart restaurants.
The once-ubiquitous Parker House roll suffered terribly from the anti-carb trend and also fell out of favour thanks to the US' appetite for rustic seeded rolls. Parker House rolls are white. Very white. But famous chefs are loving them right now.
As San Diego chef William Bradley says, "I want to take a humble food, and make it discussed as seriously as a black truffle." He even serves an entire Parker House roll course half way through his ten course tasting menu at the Michelin-starred Addison, embellished to perfection with a choice of three different butters, all churned in the restaurant: clover, fleur de sel, and fines herbes.
Start your own epic journey into the wonder of great British bread
Vegan breads. Sesame-free breads. Beautifully fluffy white breads and nutty, flavoursome seeded ones. Stunningly good burger buns and hotdog rolls. That's just the tip of the iceberg. Enjoy your own epic journey into the wonders of top class British artisan bakery – just ask us for a free box of samples and we'll send one to your doorstep.