Refined grains, Kangaroo grass, banana bread goes large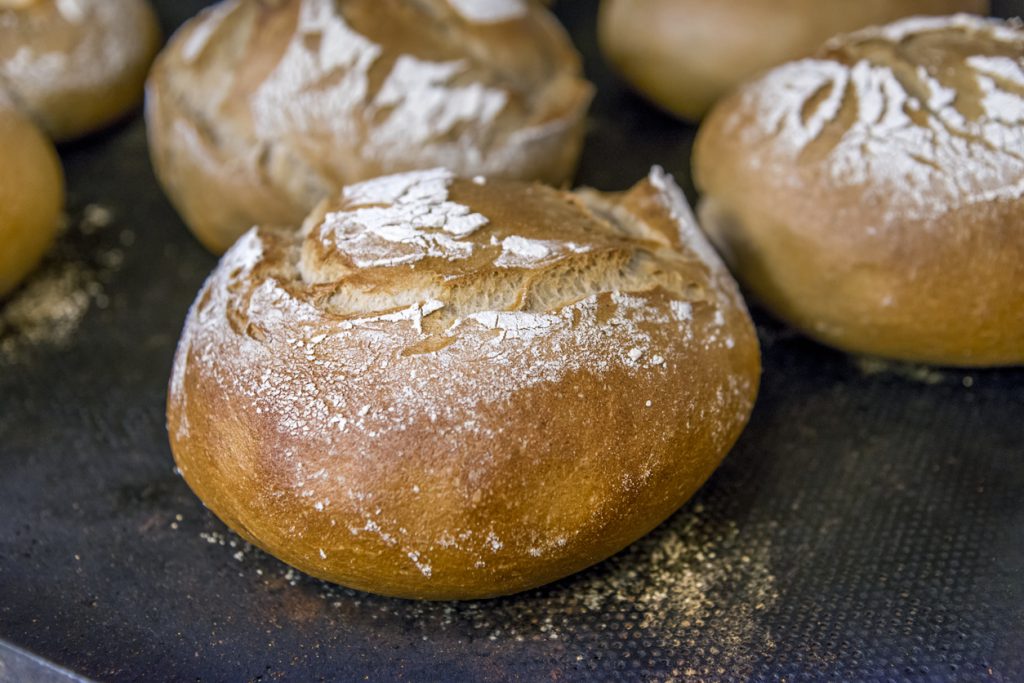 In the same way bread is never far from our minds and always in our hearts, bread is rarely out of the news. Here are some of the best bread tales from this week's crop.
How too much refined grain is bad for your heart
The same as so many things in life, it's a matter of balance. There's nothing wrong with white bread per se, but when you eat tons of the stuff along with refined cereals and pasta, you could face a higher risk of heart disease and strokes. So says a piece of research involving 137,000 people across the planet carried out by McMaster University in Canada, looking into people's lifestyle and medical history.
A 'high intake' of refined grains was classed as at least 350g a day, in other words an entire white loaf. Low intake was classified as less than 50g per day, somewhere between one and two slices. The study tracked people's diets for an average of nine years, noting down deaths from heart attacks, strokes and heart failure.
The results revealed that high intake people have a 33% cent higher risk of serious cardiovascular problems than those with the lowest intake. The solution? It's the quality of the carbs that matter. Simply lower your intake of refined products and eat more whole grains to reduce the risk.
Aussie TV's new food and travel show focuses on bread
For the Love of Bread delivers a fascinating journey around the world to discover the best in bread making. The 8 part series showcases the finest artisan bakers, whisking viewers to Berlin, Paris, London, Vienna, Copenhagen, back to London again, then San Francisco, Valetta and Athens.
Every nation has its own unique breads, shaped by local produce, culture, and bakers. You'll discover the magical Maltese pastizi, Greece's gorgeous koulouri street snacks, and delights like the croissant. For the Love of Bread kicks off on 7th March 2021 at 5.30pm on SBS Food, the Aussie public service TV station, also streaming via SBS On Demand.
Know your audience – The Global Banana Bread Market
MarketWatch reports on all sorts of markets, from consumer goods to business-to-business. If they report on it, it matters. They've just released a report called Global Banana Bread Market 2021 by Manufacturers, Type, and Application, Forecast to 2030 by MarketResearch.biz, revealing how incredibly important banana bread has become to the global economy during lockdown. It is no longer a mere craze, a bit of fun, something we do to stay sane in lockdowns. It's an actual market.
As they say, "This report sheds light on the vital developments along with other events happening in the global Banana Bread market which is marking on the enlargement and opening doors for outlook growth in the coming years. This is the latest report, covering the current COVID-19/Corona Virus pandemic impact on the market which has affected every aspect of life globally. This has brought along several changes in market conditions and the Business areas. The rapidly changing market scenario and initial and future assessment of the impact are covered in the Banana Bread market report."
Washington and Oregon get generous with home made bread
Across the Atlantic, Washington and Oregon, a generous community has brought together home bakers to supply home made bread to local food banks. Back in April 2020 a small group of bakers called Community Loaves donated 19 loaves to their local food bank. By December 2020 482 volunteers had delivered more than 8,300 loaves of bread to five local food banks. Their mission? 'To end hunger one loaf at a time'. The group aims to donate twice as much bread in 2021 as the pandemic rumbles on.
A new use for Australia's kangaroo grass?
Kangaroo grass is native to Australia. Can the grain from the grass become a regular ingredient in bread? The grass was once harvested by Aboriginal people, now it's mostly treated like a weed, but could also help restore land that's been exhausted by farming.
Kangaroo grass is brilliant at resisting prolonged drought and extreme temperature changes, which means it could fare better than most in a fast-changing climate. And some say it could easily be produced on a mass scale by Aussie farmers.
In recent years there's been a boom in interest in using native grasses as grain crops, and experts currently are busy investigating the agronomy and ecology of Indigenous food plant species. One project, a partnership involving the Dja Dja Wurrung Aboriginal Clans Corporation, has been given a $1.82 million Federal Government grant to research the potential of growing kangaroo grass as a crop.
Luscious artisan bread samples
Our breads are gorgeous. We'll send you a box of luscious artisan bread samples to try for yourself. Just ask! In the meantime, stay safe and well.