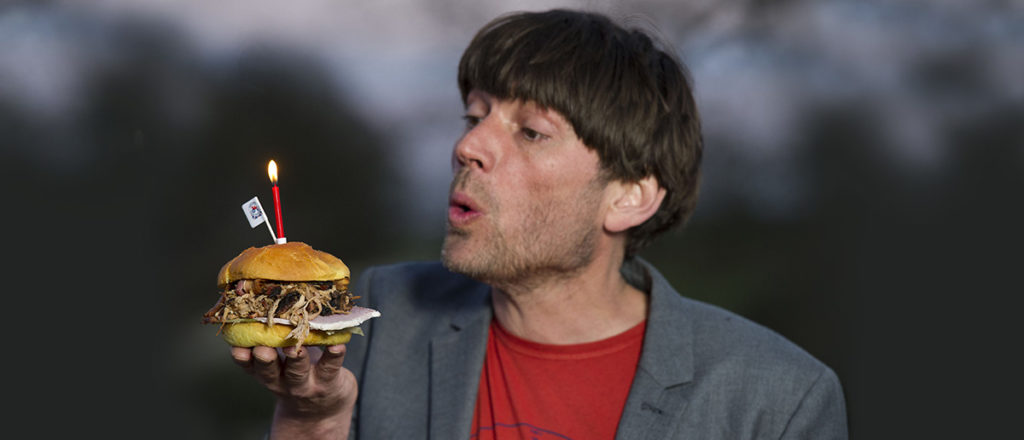 The amazing Red Tractor cavalcade rolls on and on. They're such an exciting organisation to be involved with. And we love their latest big idea, The Red Tractor Recruit campaign.
The initiative was launched at brand ambassador Alex James' farm earlier this month, where a dedicated bunch of specially-chosen British farmers, food bloggers, shoppers, marketers and producers met to share ideas about closing the knowledge gap between consumers and producers.
The idea is this: if you have a brilliant idea for promoting RT food and farming, become a Red Tractor Recruit and they'll provide promotional support to help make it happen. It's a great way to leverage the partnership for everyone's benefit as well as driving the good cause forward. And we were delighted to provide our fragrant brioche buns for everyone's enjoyment.
With RT Brand Ambassador Alex James in the driving seat, the event launched the new Recruit logo. It let selected Recruits explore shared ideas and experiences about promoting British food and farming with Red Tractor, revealing the fine detail of how the scheme is run, complete with grass roots facts and figures. And it closed with a fabulous bonfire, symbolic of igniting the imagination. Marvellous stuff.
In Alex James' words, on the big day:
"The Red Tractor Recruit Launch Party is an opportunity to share ideas and inspire each other on ways we can help increase food knowledge across the country of how food is produced, where it comes from and why people can Trust the Tractor on their food."
As well as our breads, the catering menu also included succulent Suffolk reared pulled pork from Barebonescue and crisp Oxfordshire pressed apple juice from BensonsTotallyFruity. Yum.
There are plenty more Recruit events on the horizon, designed to showcase Red Tractor food production in action and spread the word. If you have a unique idea to promote Red Tractor food and farming and would like some promotional support to make it happen, you can sign up to be a Red Tractor Recruit here. And you can see the Recruit Launch video here: