Yorkshire's mighty Three Peak Challenge… nailed!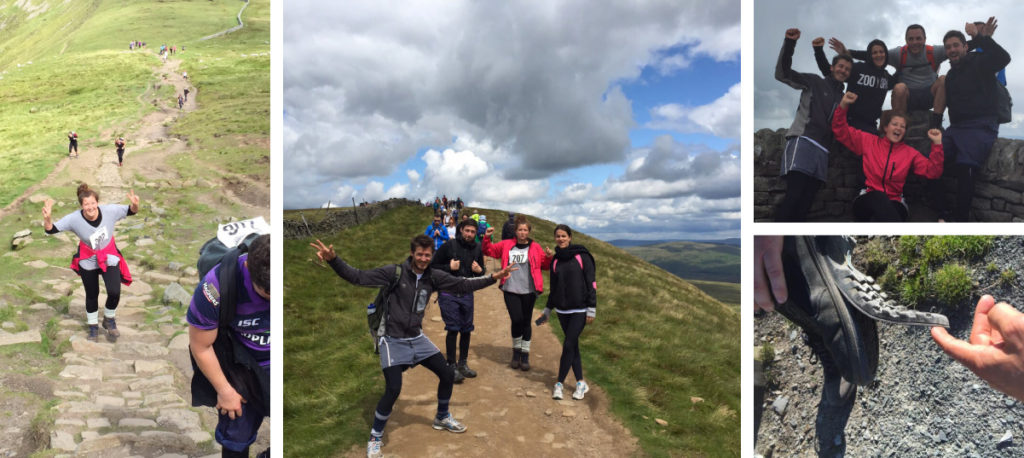 "We're delighted to say that we beat the hell out of Yorkshire's best mountains on Saturday, completing the Yorkshire Three Peaks Challenge in around 11 hours. Our feet are sore but it was a great day and fantastic to raise over a thousand pounds for the Alzeimer's society. We couldn't have done it without you, so a huge thank you once again for your generous donations and support."
So say the impressively rufty-tufty folk at Hungry Communications, with whom we're proud to work, a bunch of whom absolutely nailed one of the nation's toughest hikes. Huge congratulations to the team of six who tackled and conquered the best mountains Yorkshire could throw at them on the 25th July, as they completed the Three Peaks Challenge for the Alzheimer's Society.
The mountains are all part of the massive Pennine range, whose craggy spine marches down the western side of northern England. Encircling the mighty head of the River Ribble valley, deep in the Yorkshire Dales National Park, the Yorkshire Three Peaks Challenge involves scaling 691 metre Pen-y-ghent, 728 metre Whernside and 723 metre Ingleborough in less than twelve hours.
When the going gets tough…
As you'd expect, the going is extremely tough. And the team's walk ended up far from plain sailing. Dave 'the Beast' Isichei deserves a special mention. The sole of his hiking boot fell off at the top of the first mountain and the second sole went two minutes later. Having taped them back on a mighty six times during the walk, unlike his boots he made it to the finish line in one piece.
Sponsored by Speciality Breads and loaded up with our rolls, which were perfectly defrosted and fresh for an energy-boosting lunch, the team consisted of Sam Houston, Josh Houston, Ben Houston, Hannah and Dave Isichei plus Steve Barber. In a route taking the walkers 28 miles, the challengers managed to raise more than £1200 for the Alzheimer's Charity. Well done, people.