The rise and rise of artisan bread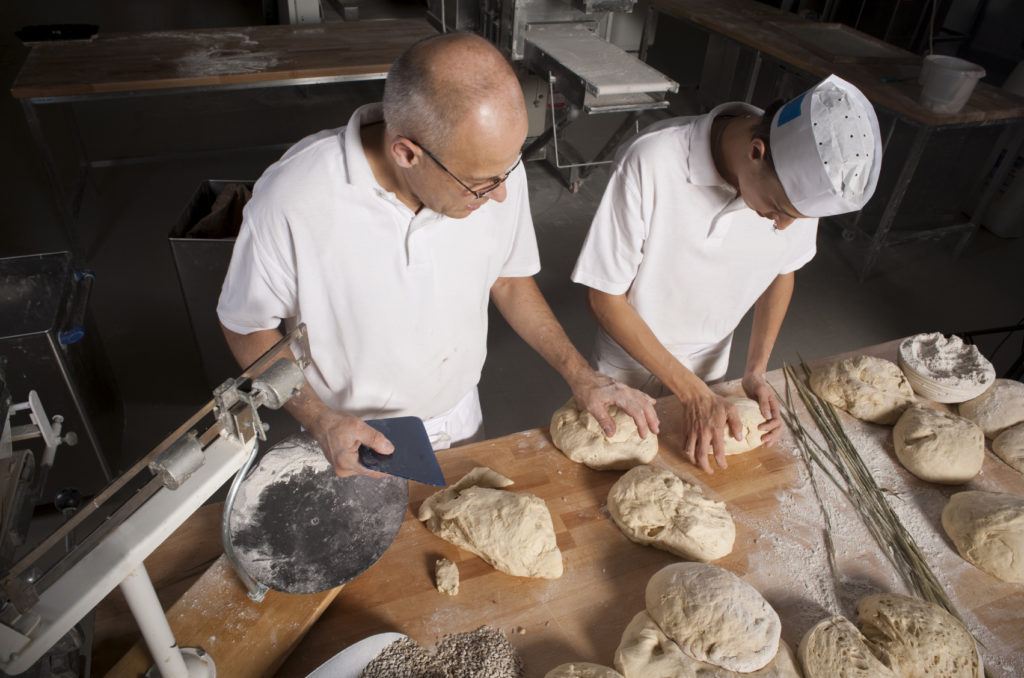 As reported in The Independent, artisan bread is on the rise. But it's no surprise to us. We've seen a steady increase in the number of British foodservice organisations, large and small, taking the artisan plunge.
The Larousse Book of Bread
The Larousse Book of Bread by Eric Kayser, released earlier this year in hardback, acknowledges the trend, tapping into the public's desire to understand 'real' bread better. It's a handy step-by-step photographic guide to everything from fermentation to making classics like the hugely popular brioche. But the biggie is sourdough, a dough so popular it has become a buzzword for the growing demand for artisan breads in general.
Sourdough is made with wild yeast and bacteria, fermented for ages for that unmistakeable nutty taste and extra long life. But there's more. Breads that have been fermented longer are also easier to digest. In fact several research projects have proved that wild yeast can calm down the symptoms of IBS and even lower blood sugar levels.
London is already stuffed with artisan bakeries. Some experts feel they might even become more popular and widespread than coffee shops. At the same time The Grocer magazine confirms that sales of ordinary white sliced bread are still in decline. The top three white bread bakers have seen a total drop of £120m in just one year, while more than 650 new artisan bakeries have popped up on British high streets since 2008.
What does Jamie Oliver say?
The Jamie Oliver website concurs, with its own celebration of artisan loaves. As they say, more than 80% of mass produced UK bread uses the Chorleywood Process, a method rich in chemicals, high-energy mixers and super-fast fermentation. And the result is "unremarkable".
Artisan loaves' lovely long fermentation process delivers as much as 24 hours' development time, which lets the natural enzymes react with flour in their own good time. The resulting flavour and texture are so much better. It's a dramatic difference. Even if you know nothing at all about bread, you'll notice.
Better still, the longer the production process, the longer the bread's shelf life. It might sound counter-intuitive, but traditionally-made breads really do last longer than those stuffed with preservatives designed to extend their shelf life.
India taps into the artisan trend
We're not alone. This is an international trend. As reported in the Times of India, Mumbai is turning against ordinary bread too, welcoming slower, traditional bread-making techniques and rejecting pre-sliced white stuff.
These days the people of Mumbai are well aware of the difference between mass produced and small batch artisan breads, and they're paralleling the British bread rebellion by demanding loaves and rolls with more nutrients, fewer unnecessary additives, a lighter, crumbier texture and much more flavour. In the words of newspaper:
There's quite a variety available — from the baguette to ciabatta, focaccia, round miche, brioche buns, sourdough etc. Adds food consultant Saee Koranne-Khandekar, "Earlier only five-star hotels sold it, but today, more vendors are also making this bread, so it's more accessible. While it may be more expensive, the well-travelled don't mind spending on it."
If you're still providing your foodservice clients with Chorleywood bread that tastes like cotton wool and feels like window putty, now's the time to ring the changes. If you'd like to taste our glorious artisan breads, just ask and we'll deliver a tasty batch to your doorstep, flash-frozen for perfect freshness.