Bread News for January 2016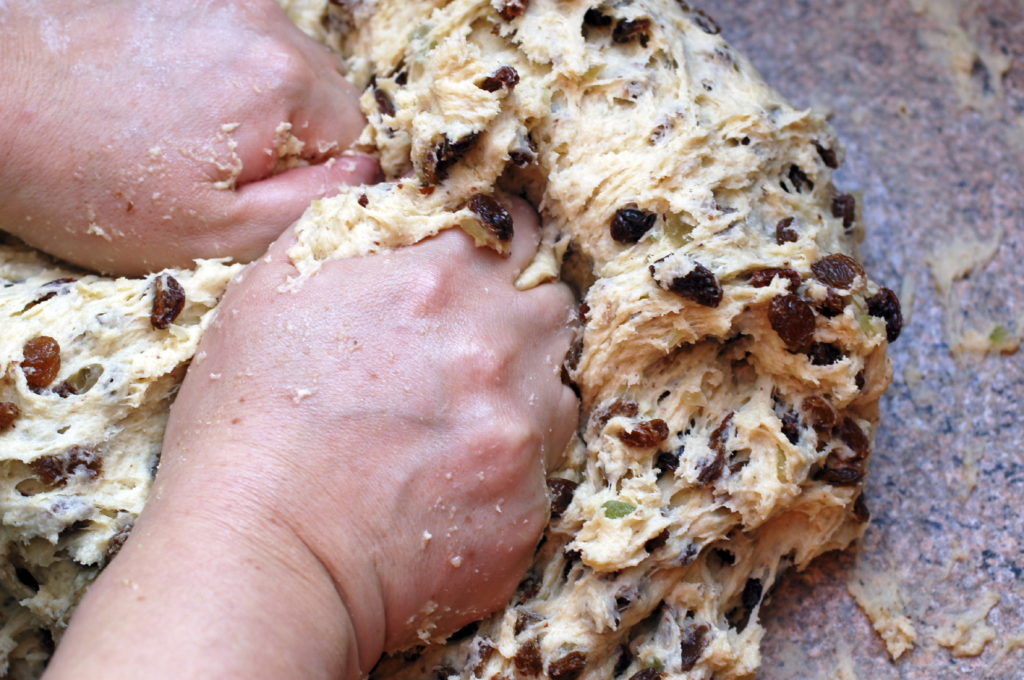 There's all sorts of curious news about bread this time around, with a white bread rebellion from M&S, torture victims benefiting from baking bread and a pair of ancient shoes left in a disused bread oven in Somerset. Here are our favourite stories for the start of 2016.
M&S adds extra fibre to their white bread and rolls
M&S has announced they'll be adding extra fibre to all of their white bread and rolls, and nutritionists are welcoming the move. The brand decided on the change after their in-store bakeries noticed a drop in sales, along with a trend for fewer kids taking packed lunches to school.
M&S' bog-standard white sliced loaf and rolls are giving way to a fibre-enriched alternative at a time when sales of sliced white are in terminal decline, with consumers much more keen on speciality breads like ours than the white fluff they've been stuck with for so long.
It looks like the tide is turning and the nasty stuff really is on the way out. It's great news. After all, how many consumers really want bread pumped full of the yeast, palm oil, strange enzymes and unnecessary preservatives used to speed up the baking process and retard essential ageing.
That's not to say all white bread is rubbish. It isn't. It's gorgeous stuff when it's baked properly, not rushed through the natural process thanks to a host of extra additives. Fragrant, soft white bread has a flavour all of its own, and a lovely texture, and you can't beat it for making traditional treats like chip butties and bacon sarnies.
Great bread isn't complicated. It's made with flour, yeast, water and salt. Adding extra fibre to ordinary white bread transforms it into something worth eating, so well done M&S for taking a first step towards selling good bread to its famously discerning customers. We think their next step should be to stock breads like ours, with top class credentials worthy of the M&S customer base.
Baking bread brings emotional benefits to torture sufferers
According to the Positive News website, the charity Freedom from Torture is helping people who have suffered torture to support one another, and baking bread helps heal their emotional wounds.
At Freedom from Torture, volunteers work with torture survivors in five British centres, in Birmingham, Glasgow, London, Manchester and Newcastle, helping them rebuild and heal their lives. They provide a respected centre for learning and knowledge dedicated to the care, treatment and protection of torture victims.
The bread group was set up by therapists Saba Stefanos and Shamsi Mahdavi, both employed by the charity, and the group has been running for a decade. The idea was that bread is common across most cultures, a staple food in more or less every society. As such bread brings the past and present together, letting the bakers talk about who baked at home and tell stories about how they used to eat and cook together. In short it helps people who have been unable to talk, to talk… often for the first time.
The group's members are all at different stages in the asylum process, but they're all in limbo. Some of the luckier ones have had the OK to stay in Britain, and now they're starting to look for work. What a great story, proving yet again that bread is a great leveller.
Mysterious shoes dating back to the 1700s left in a vintage bread oven
What was going on several hundred years ago, when some chap left his leather shoes in the Bower Inn in Bridgwater, Somerset? And why did a mysterious modern-day visitor insist the shoes were kept in the bread oven, "where they belong"?
Candida Leaver and Peter Starling were given the shoes back in 2010 when they took over the inn, by an elderly man who visited just twice. On the second and final visit he handed the shoes over and instructed the pair to keep them in the old bread oven.
The oven, which sits next to the fire, was originally an inglenook fireplace. The old man said the shoes should be kept there for good luck, and popped the shoes in. The couple were too surprised to ask questions, which they later regretted. Now they want to know more.
Candida, Peter and their team are appealing for help from people who know about the inn's history, or who the elderly gentleman might be. They'd love to know about the shoes' significance, and are keen to meet him again so he can explain why they were removed in the first place, and why he brought them back.
See you next time
Come back next time for more news from our world, the fragrant, tasty world of beautifully baked, 100% British artisan breads.