Mango bread, fairy bread and avocado burger buns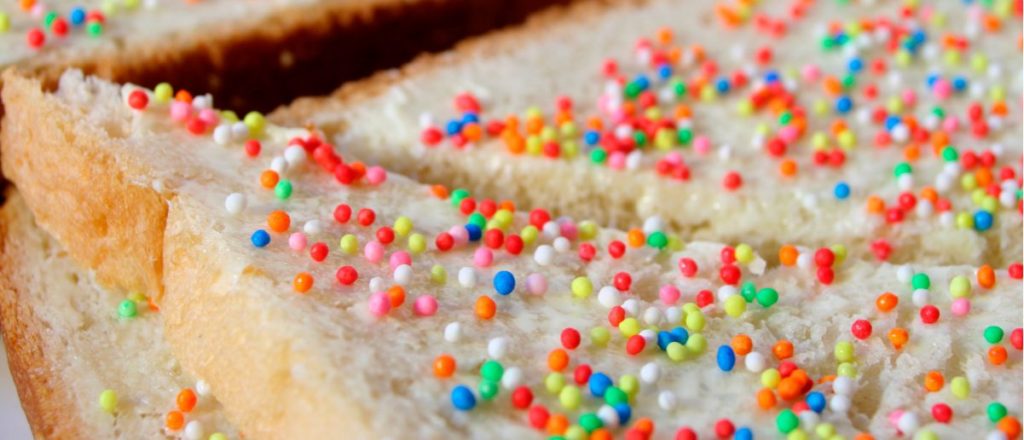 Instagram has a lot to answer for, not least a growing collection of eccentric food fads. Here are two of the latest and greatest Instagram-inspired bread trends. There's a brilliant wild card of a bake hailing from Johannesburg in South Africa, made with flour created from milled mango peel and pips. Ireland's lightweight men's double sculls silver medal winners credit their success to their granny's home-baked brown bread. And the Saudi Grains Organisation prepares for Haj. Here's the latest bread news.
Green avocado burger 'buns' a big hit in Covent Garden
The latest Instagram food sensation? It's the avocado burger bun, a curious creation inspired by the Dutch food blogger Colette Dike's magical, mouthwatering photographs. Instead of a bread bun, it's a burger bun made from two chunks of avocado fruit. And it's proving a huge hit at Covent Garden's Joe's Southern Table and Bar.
Apparently customer demand inspired the concept and its already scoring a huge hit with tourists, healthy eaters and foodies. And the idea is simplicity itself: whack your buttie filling or burger between two bun-shaped avocado halves and you're off. Joe's serves them with either a cheeseburger and bacon filling, southern fried chicken with hot mayo sauce or a veggie option.
Fairy bread charms hard-to-please New Yorkers
There's another Instagram food fad on the march, thanks to so-called fairy bread. It's a traditional Australian snack made from white bread, butter and rainbow sprinkles, AKA hundreds and thousands, and was originally a staple of kids' birthday parties. Now it's going mainstream in the Big Apple, a hit with grown ups and generating all sorts of odd-sounding spin-offs like ice cream fairy sandwiches and butties with the butter replaced by Nutella.
Jo'burg's mango bread – Affordable and healthy
Jo'burg is home to the fast-growing trend for loaves of mango bread, an innovative idea that's spreading like wildfire across the South Africa. It's affordable. It's healthy. And bread makers across the nation, from KwaZulu-Natal to Mpumalanga, Cape Town to Free State, are cashing in.
Bakers have been inundated with requests for the tasty bread, made from flour milled from mango peel and pips. The recipe was only launched by in Soweto last month but news is spreading like wildfire, hailed as a healthier, more wholesome and low-cost alternative. Since the first bakery launched in Pimville five more have sprung up across Jo'burg, and another 24 are due to open soon.
Irish Olympic medal winners' bread-fuelled triumph
When the O'Donovan brothers rowed to glory in Rio, Ireland rejoiced. Gary and Paul romped home to collect a silver medal in the lightweight men's double sculls, and insisted afterwards that their granny's home baked brown bread held the secret to their inspirational sporting success. Ireland's top chefs agree, saying that 'slight variations on basic recipes' and 'secret ingredients' can indeed transform an already wholesome brown loaf into the food of Olympic champions.
SAGO plans ahead for Haj
Meeting in Jeddah, the Saudi Grains Organization says it's making more than a million bags of flour available for the forthcoming Haj season to ensure a steady supply of bread to pilgrims. They also looked at a host of issues that bakeries faces during Haj, hunting for solutions to issues with delivering fuel to bakeries and flour from Jeddah to Makkah, bread prices and food security during the festival.
We'll see you next time for more news about bread, baking and the foodservice sector…