Beer Bread, Bread Waste and the Nastiest Bread Story on Earth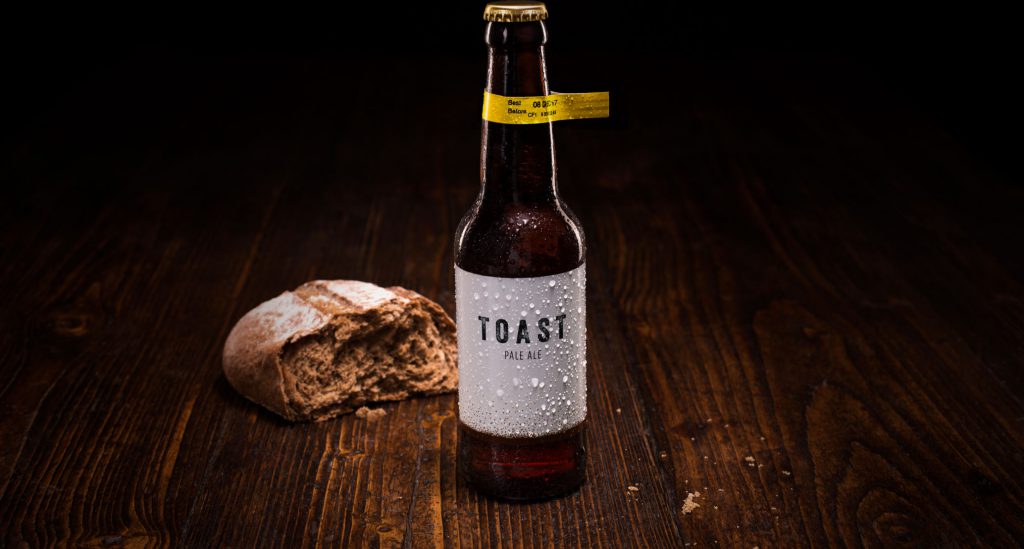 The trend for reducing food waste rumbles on. Some say supermarkets are wasting bread on purpose. Greggs are ditching their traditional role as a bakery. Irish diets come under scrutiny. And we've found the most bizarre and nasty bread-related story… ever! Here's the news.
Toast Ale brews tasty bread beer
British food and drink manufacturers waste 1.7Mt of food every year. So it's good to see that Adelie foods has partnered with Britain's first bread-to-beer brewery, Toast Ale, in a highly creative bid to cut food waste.
They're supplying surplus bread from bakeries, delis and sandwich makers to Hambleton Brewery, which is using it to brew pale ale. Apparently Adelie has handed over more than 220kg of waste bread so far, which has been used to make over 6,000 beers, and the profits go to the food waste charity Feedback.
Adelie was already dedicated to the 'zero waste to landfill' model. So the partnership with Toast Ale was an obvious move, as a 'unique and interesting way to use waste bread to make a positive impact'. It looks like this is just the start of a beautiful relationship.
Irish Times reveals people are more likely to cut down on bread than booze
At the same time, according to a survey, overweight folk in Ireland are more likely to cut out bread than alcohol in an attempt to slim down and stay healthy. The survey involved 1,000 people on both sides of the border and revealed how people would much rather reduce their bread intake than cut down on booze.
The Irish Flour Confectioners and Bakers Association commissioned the survey for the Irish National Bread Week, which started this weekend. The event is devoted to the celebration of Irish bread and will be reminding consumers to 'love your loaf', pointing out the great taste, versatility and value of bread as part of a healthy, balanced diet.
We suggest the citizens of Ireland drink Toast Ale, thus enjoying the best of both worlds!
Do supermarkets really over-bake to waste bread on purpose?
The Charity The Real Junk Food Project says some supermarkets are deliberately baking too much bread in-store. On the positive side it means The Real Junk Food Project gets to collect tonnes of perfectly good food that would otherwise just be thrown away. On the downside, it seems amoral to use bread as a loss-leader, just to emphasise the value of higher-priced items.
In Leeds alone the charity collects as much as two tonnes of bread products a day, most from M&S and Sainsbury's. Sadly a lot of it is still thrown out since items like baguettes have a particularly short shelf-life and can't be redistributed fast enough. M&S countered the claims, saying none of their stores have a waste allowance, but have targets to reduce waste by 20% by the year 2020. Sainsbury's says it works with more than 1,000 charities to help redistribute leftover food.
Nigerian police uncover bread stuffed with human heads
Brace yourself for a truly horrid story. If you thought finding a mouse, an elastic band or a flip-flop in your loaf was bad enough, how about this? In Nigeria the Lagos State Police have arrested two people, a man and a woman, who were found in possession of three human heads hidden inside bread. The loaf contained three crushed human heads, each tied separately and carefully labelled. The police have no idea, so far, how the couple came by the heads, or what they were intending to do with them, and are investigating the mystery 'discreetly'.
Will Greggs the bakers ditch the loaf?
Greggs might stop selling loaves as part of a move to target health conscious consumers. They are currently busy moving away from their traditional bakery model and increasing their 'food on the go' offering in a bid to rival McDonalds. So far they've launched low-calorie sourdough flavoured pasties to replace the humble sausage roll, and their winter menu is set to include pulled beef and pork, one of the biggest food trends of recent times.
Come back soon for more news and views from our corner of the foodservice world…