Bread hats, baguette postboxes and Aussie bread scandals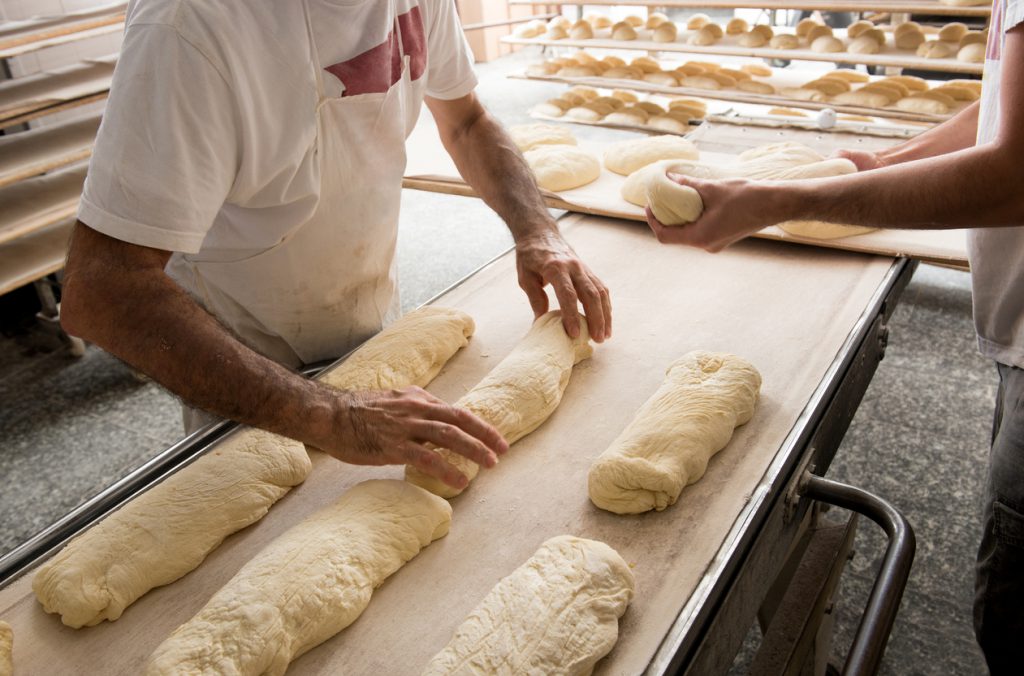 There are some wonderful bread stories around this week. Here are the best of the bunch.
Aussie 'lollies on bread' scandal
Over here Jamie Oliver's timely intervention sent school dinners in the right direction, veering away from unhealthy foods and towards a better, tastier, healthier offering. In Australia the manufacturer Bakers Delight has caused consternation by advertising an incredibly unhealthy school packed lunch ingredient, and the billboard ads have been slammed by Australia's Advertising Standards Board.
The advert appeared in shopping centres, revealing three of the brand's products underneath the slogan, 'School lunches? Problem solved.' Adding insult to injury, a second suite of billboards advertised the products as available for 'a limited time only'. So what caused the complaints? A four pack of mini white bread finger iced buns covered in chocolate M&Ms.
Like the UK, Australia is suffering an obesity crisis. As one person who complained said, advertising M&Ms on bread for school lunches is "appalling". They added that healthy food choices are challenging enough for most families, and the fact that the buns were being promoted as an acceptable choice was "unfathomable". In their opinion the products are not fit to be eaten by children, let alone promoted and 'normalised' as an everyday food. The words 'incredibly irresponsible' and 'unethical' were also used in a damning outcry.
The country's Advertising Standards Board agreed, ruling that the ads undermined the promotion of healthy balanced diets, breaching the AANA Food Code. In future the manufacturer will seek approval from the Advertising Standards Board first, before going to print on adverts.
Ethiopian Injera bread proves a fantastically successful export
Addis Ababa is the source of one of the fastest growing bread trends of recent months, thanks to one enterprising family of bakers. Once a small local business, they now export around 6000 loaves of their Injera bread to western nations including Britain and Norway. The family started business in 2003 making Injera bread for the locals. These days they employ more than a hundred staff. So what's all the fuss about?
Injera is a gluten free flatbread, and in Ethiopia it has long been a staple food. The bread is made from teff, a cereal crop rich in iron and calcium. The process involves fermenting the dough to create a spongy texture and sour flavour.
Gisele's bread hat thrills the fashion world
Supermodel Gisele Bündchen is starring in Loewe's autumn 2017 fashion campaign. And the new adverts, released to the press a season early to coincide with Paris Fashion Week, have caused a stir thanks to a floppy 1970s-style hat embellished with a Loewe-branded loaf of bread. It's ironic since the model is famous for a diet so strict it has made international headlines.
The extraordinary rise of the baguette postbox
French inventor Gérard Brun just can't keep up with demand for his Baguette Postbox, AKA Boîte à Pain. It's a simple enough idea but then again so are many of the best ideas: a long, thin, rectangular polyethylene box with a cotton bag inside.
The box keeps precious baguettes safe from the elements, away from sticky fingers and also safe from theft thanks to its lock, for which only the owner and baker have keys. If you don't have time to pop to the bakers yourself, your bread will be delivered in a postbox, safe and sound, ready for when you get home. It's the latest in a growing trend for innovative baguette deliveries, which are proving hugely popular with busy French folk.