Bread Museum – Mrs Thatcher's Horrid Bread – Batch or Bap?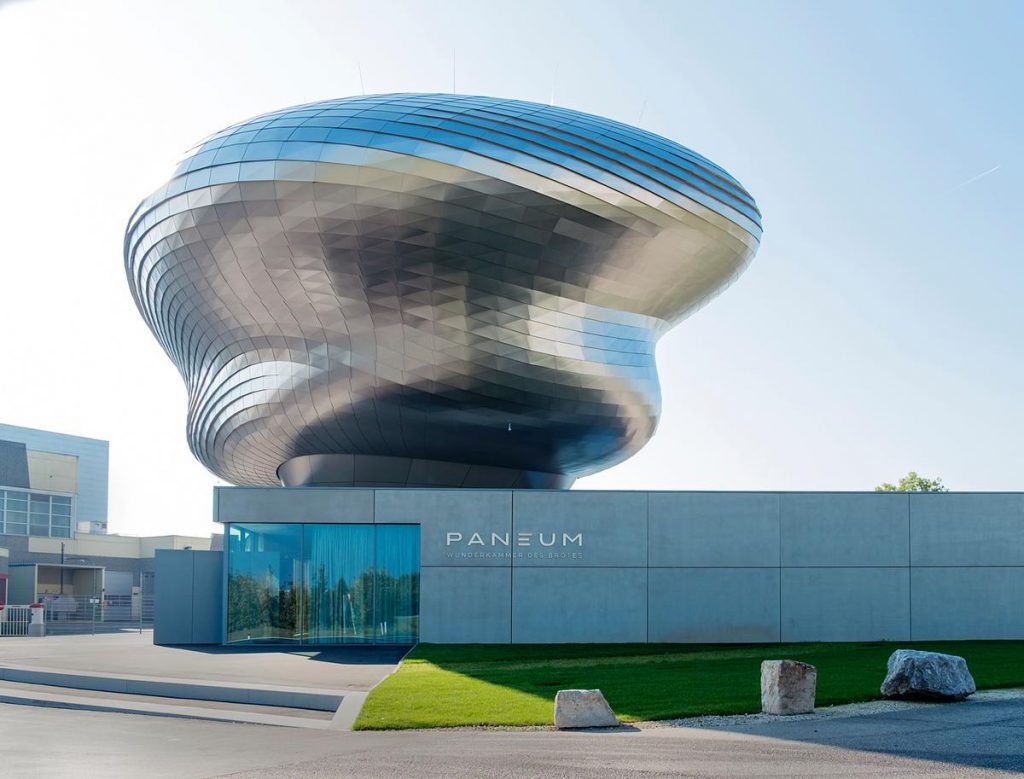 You're opening bread museum dedicated to our brilliant industry, one that has fed humans for millennia. So you want a building that suggests loaves to visitors. How about this, pictured above? Architect Coop Himmelb(l)au's House of Bread has risen, and it's a remarkable structure. You'll find it in Asten, Austria, and it's official name is the Paneum.
The 65 foot high, amazingly elegant, silvery loaf-like building is to be used as both an exhibition space and a museum dedicated to bread, and inside there's a feast of 1200 different objects, some dating back 9000 years, including stunning artworks, Egyptian grain mummies, Peruvian totem poles, Meissen pottery, countless paintings and literally 1000s of books. Thanks to Clad Global magazine for the fabulous image.
Remembering Margaret Thatcher's horrible 1987 bread
Ex-PM Margaret Thatcher originally studied chemistry at the University of Oxford. Then she took a job as a a research chemist. But roll back time to 1987, thirty years ago, and Mrs T's Press Office was snowed under with complaints thanks to a lamentable bread recipe.
Margaret appeared on a BBC children's science programme in January 1987, called Take Nobody's Word for It. Hosted by Professor Ian Fells from Newcastle University, the programme was supposed to reveal the ins and outs of basic chemistry. In this particular episode, the PM was asked for a bread recipe that kids could bake themselves, at home.
Sadly the resulting loaf was appalling, and Downing Street was soon inundated with complaints. Apparently the loaf tasted exactly like chewing gum in one person's opinion, and another called it "bad enough to cry".
When is a bread roll not a bread roll?
There are numerous names for the humble bread roll, revealing its widespread popularity. Go to Coventry and it's called a batch. A batch in Ireland is completely different, more likely to be a loaf. Research by linguists at Manchester University in 2014 reveals more. Apparently 36% of us call it a bread roll. 18% insist it's a bap and 16% call it a bread bun. 14% of us say 'barm' and just 5% call it a muffin. Trailing along last there's cob at 5% and teacake, also at 5%.
Getting a bit more obscure there's also the bulkie, the finger roll, dinner roll, blaa, nudger, stottie cake, kaiser, bin lid, oven bottom and buttery, all rolls by any other name.
'He reinforced my belief in kindness'
When a mystery customer paid for 59 strangers' meals at a Maine bakery as a mark of respect for the 1st October Las Vegas shooting victims, it touched the nation. Staff at Maple's Bakery in Yarmouth, Maine, were blown away by the customer's generosity. But he wanted to remain anonymous. As the bakery owner wrote on Facebook, "Thank you to the customer who reinforced my belief in kindness".
Students rave the night away at Greggs
Students in Birmingham have cleverly persuaded a city centre branch of Gregg to hold a party welcoming them back to Uni. It took a mere three hours to transform the shop into a nightclub, christened the Ministry of Greggs, complete with confetti cannons, cool lighting, inflatable doughnuts and pizza.
Welcome to Washington State Uni's Bread Lab
"Bread is science. It's physics, it's chemistry, it's biology – it's alive." So says Dr. Stephen Jones, a keen wheat breeder, obsessive baker and head honcho at the Washington State University Bread Lab. It's been on the go since 2011, tasked with numerous missions including developing bread that is affordable, nutritious and delicious.
As Jones also said, "I like to say in the lab we have beauty; there's room for beauty, there's tremendous beauty in what we do." That's nice to hear, since we feel exactly the same about our tasty breads. It isn't just a bakery thing. It's a love thing, and we think it shows.
Are you in foodservice? Have you tried our artisan breads yet? If not we'll send you a generous free sample box. Just ask, and we'll make it so.