Harrods' New Bake Hall, Wheat Price Rises and More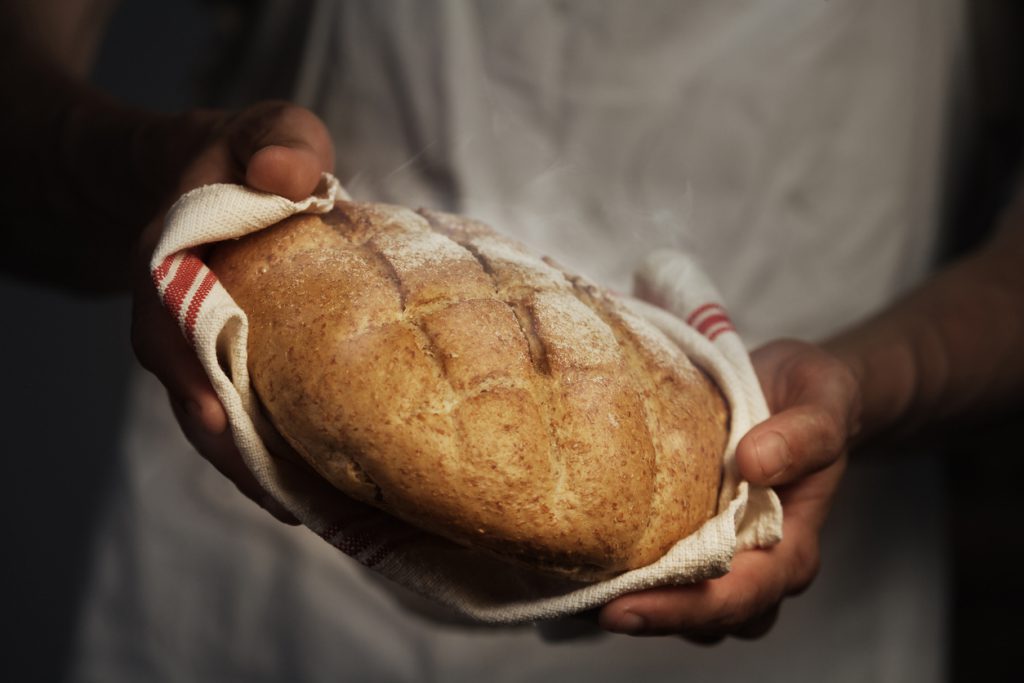 When bread is a high fashion item…
Elle Magazine's reporter Estelle Tang has discovered an item of clothing that she just can't resist. It's a plain cotton sweatshirt with the word 'Bread' emblazoned across the front, it comes in eight colour choices, costs just twenty US dollars and is made by Odomojuli.
Making bread is proven to be therapeutic
People with mental health issues feel an increased sense of happiness and creativity thanks to baking bread. The report comes from Bethlem Royal Hospital, where the people who took part in baking sessions run by the Real Bread Campaign said the process made them feel happier, relaxed and creative, gave them a sense of purpose, reduced their anxiety levels and gave them a real sense of achievement.
The recommendation is that more research is carried out, and the effect was so noticeable that bread making lessons might ultimately be made freely available. No wonder we're such a happy bunch over here in deepest Kent!
Kingsmill warns about 'unsustainable losses' in the bakery sector
It's a perfect storm… Kingsmill says 'unsustainable losses' are on the cards as ordinary breads is hit by a slump in demand and rising flour prices. The fad for low carb foods isn't helping. These days 42% of Brits eat bread daily compared to 52% two years ago, according to a poll in The Grocer, and young people are apparently eating less bread than ever.
While bread is still a staple on most people's shopping list, the everyday sliced loaf is the biggest victim. The past five years has seen a 12% drop in demand and the cost of a basic loaf has gone up by 4% in the last year, with a 24% rise in the cost of the wheat used to make bread in the past two years, according to the nation's Agriculture and Horticulture Development Board.
The pound's fall in value plus a steep hike in demand for wheat as a raw ingredient for animal food and biofuel has added fuel to the fire. And the weather has played a part too, with a soggy August affecting the yield of the wheat that British farmers planted earlier this year. All this means that even Associated British Foods' massive cutting edge bakeries are making a loss.
Hovis reported a thirty million pound loss for 2016, up from £19m in 2015 thanks to a 9% drop in sales through 2016, and Waburton's sales dropped by 4.6%. Industry analysts are expecting at least one of the nation's biggest bakeries to cut back their operations in the near future.
Harrods leads the 'Taste Revolution'
In the midst of all this sliced white doom and gloom, artisan breads are still selling like hot cakes. While many people are eating less bread, it looks like the bread they're choosing to eat is the kind of breads we make.
Harrods is leading the way with the biggest re-development of its famous food hall in two decades. Walk in and you're met by an astonishing floor-to-ceiling display of the most wonderful breads, the star of their new Roastery and Bake Hall. It's the beginning of a 'Taste Revolution' at the store, the first phase in a two year project.