DIY yeast, home baking and home delivery innovations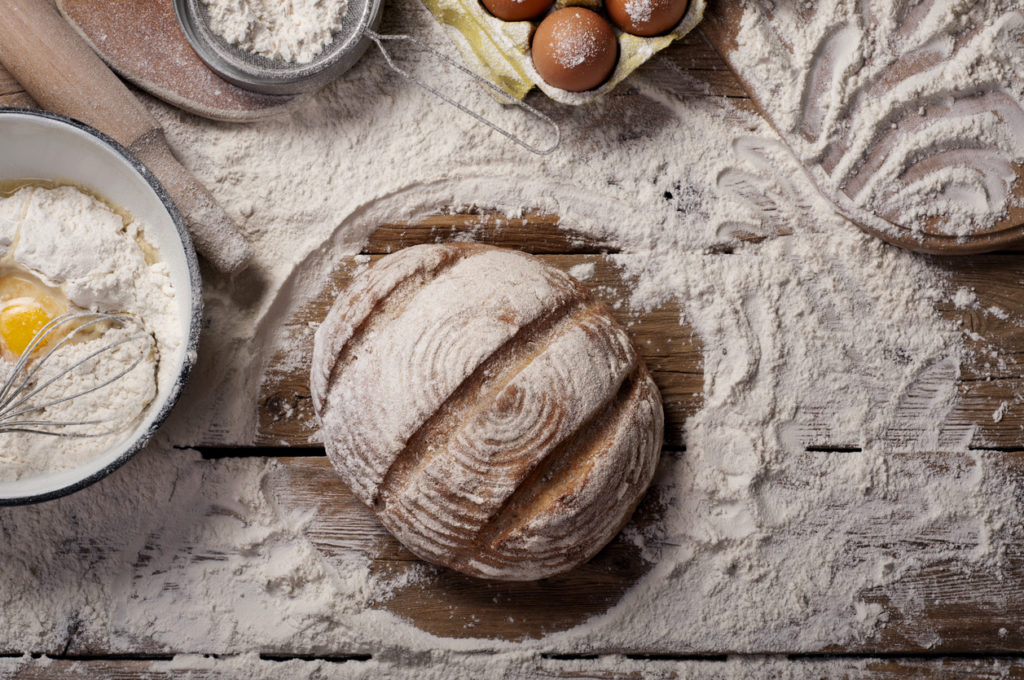 We've already communicated with our customers and suppliers about Covid-19. We hope you're all looking after yourselves and staying safe. Hopefully we'll weather the crisis together and come out of the other end in good shape. In the meantime, here's the news.
Make your own bread using yeast from… you!
Buy yeast and it's always the Saccharomyces cerevisiae variety. It's reliable, tough and predictable, the perfect bread maker. But it's a new kid on the block when you look at thousands of years of bread-making. Before automation and factories and bulk-baking, people used a living culture of wild yeasts and bacteria to make their daily bread.
To make bread you need a starter, the yeast culture that makes the ingredients do their magic. You could get an already-established starter from someone else who bakes. Just nip off a bit of theirs and off you go – it'll keep growing naturally. But it's even easier to generate your own. All you need is an environment that wild yeasts love to grow in.
Flour already contains microbes. They're everywhere, after all. Others, including bacteria, come from the person baking the bread. How do we know this rather revolting fact? When scientists sent the same flour and starter to eighteen different bakers, the resulting bread revealed a huge variety in flavour which can only have been caused by different bacteria entering the starters.
If you'd like to give it a go, here's how. Mix 50g wholemeal flour with 50ml of water. Pour it into a jar. Leave the lid loose on top and put it somewhere warm. After a few days it'll start to bubble, a clear sign the starter has become active. If you don't get bubbles throw half of it away and replace it with new flour and water, something called 'feeding the starter'. Once your starter gets bubbly feed it with new flour and water daily for at least 7 days before using it to bake bread.
One more thing to remember. Sourdough is sour thanks to lactic acid-producing bacteria. The acid repels many unwanted microbes, but not Candida milleri and other yeast species. You might get a smell very like nail varnish remover coming from your DIY starter, but don't worry. While the bacteria can sometimes give off acetone, it won't end up in your loaf.
Home baking comes into its own worldwide
The Covid-19 crisis has inspired millions of stay-at-home Brits to bake their own bread, a fact revealed by simply Googling 'news about bread'. Many of the UK's national papers have reported on how to make bread, and how to bake bread without yeast. By all accounts the same goes for the USA, where according to the Washington Post people are 'baking bread like crazy'. It's good to know what while fads come and fads go, bread remains the western world's favourite staple.
At the same time there's a lot of chat about making flatbread with simple ingredients, plus tips for making sourdough, making bread in a slow cooker, and reports that Lidl's fifty quid bread making machine is actually pretty darned good despite its low price.
Beans on toast – The basic dish that's surprisingly good for you!
When asked, "Ignoring the idiom that variety is the spice of life, what single dish could I make that would provide all my nutritional needs forever more?", one reader of New Scientist magazine came up with a fascinating answer.
"All over the world, people eat a variant of a vegetarian meal containing a legume, a grain and a fruit or green leaf to provide vitamin C. Baked beans on toast with a grilled tomato is a complete meal, as is hummus with pitta bread and olives. Those on the go can have a peanut butter sandwich with an apple to follow."
Do they all involve bread? Yes, they do.
Big brands join forces to help self-isolated people
Deliveroo has teamed up with BP and M&S in a generous move designed to deliver bread and groceries to self-isolating people. It means they'll be able to order things like milk, bread, tinned foods, juice, pizzas, ready meals and more safely, and Deliveroo won't charge delivery fees.
The service is called Essentials by Deliveroo and it's already on the go, rolling out fast across Reading, Brighton, Nottingham, Manchester, Leeds and London. Because Deliveroo is international, similar schemes will be launched in the United Arab Emirates, France, Spain, and Australia.
Deliveroo has also collaborated with the Co-op to offer deliveries from 400 stores to the people who are the most affected. As Deliveroo said, "We want to do everything possible to help people get the food they want and need during this worrying period. We hope we can play a role in supporting people who have to isolate to get the food they need, whether that's household items or restaurant food."
Uber Eats is another delivery giant set to offer free delivery for independent restaurants. Both delivery businesses are operating on a hands-free delivery basis, leaving food on doorsteps to keep to social distancing guidelines.
Keeping calm and carrying on
We wish you the best of luck during the crisis, and we hope to see you in good fettle at the other end when it's all over. In the meantime if you want to try our glorious breads for yourself, we'll safely send you a free sample.