Feline bread thief, awful wheat harvest, brilliant baguette slicer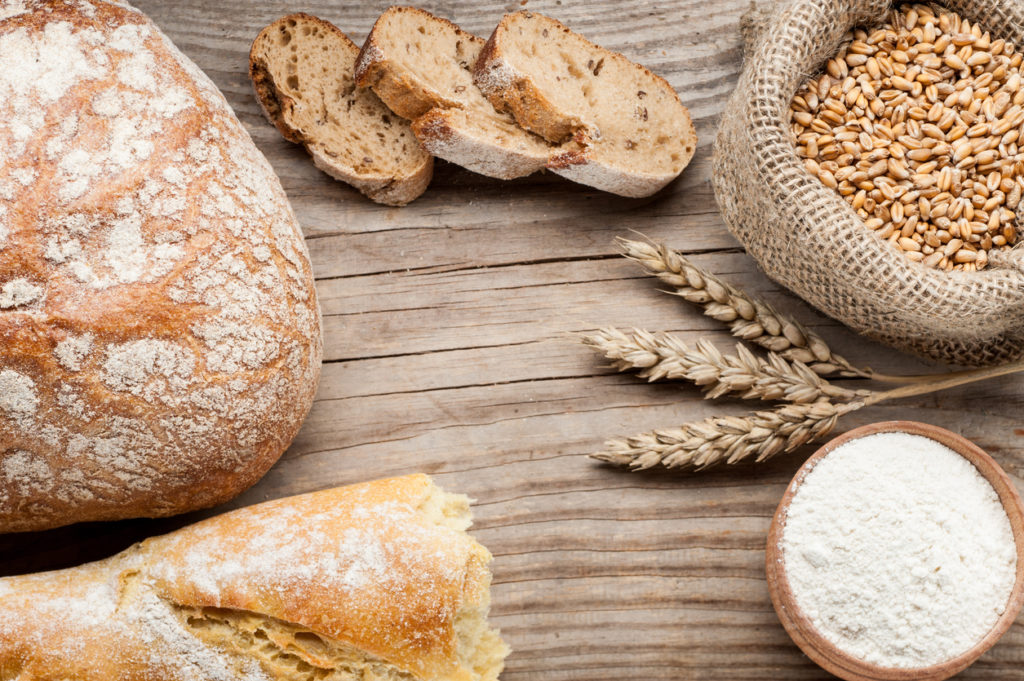 The UK's 2020 wheat harvest is set to plummet 40% thanks to the dodgy summer weather. US sanctions leave Syrians unable to afford bread and face masks, leaving the people with a terrible choice to make. One clever Scottish cat, Thomas, confesses to a lifetime of theft that has included stealing goods from a local bakery.
There's a brand new gadget on the market to help you slice your baguette to perfection. Heston creates a crazy new sandwich for Waitrose. And one Norwich artisan bakery makes a killing online. There's so much going on in the wonderful world of bread this week.
Britain's terrible wheat harvest
It looks like we're facing the worst wheat harvest in forty years. Heavy rain and flooding mean just 40% of the usual amount of wheat was planted in 2019, and 2020's May droughts – followed by a horribly wet summer – mean the little wheat we've managed to grow is poor quality. All this means the nation is facing a harvest crisis, as well as potential tariffs if Brexit talks fail to come up with a deal. No wonder farmers are concerned.
As far as the food chain goes, we're facing a shortage of UK-produced, top quality wheat, which means the the country may have to start importing wheat before long. The government has been warned about the problems ahead, and farmers have also made it clear to those in power that next year's wheat harvest could also be affected.
Hobson's choice for Syrians – To buy bread or face masks?
Millions of Syrian people are faced with a horrible choice. As their country's economy totters, they're having to choose between buying food or buying face masks. Coronavirus is apparently much more widespread than the country's government admits, and Syria has also been affected by chronic poverty and deprivation ever since Trump introduced strict sanctions on the country in June 2020.
80% of Syrians are already living below the poverty line, according to the UN, and a sudden surge in the coronavirus pandemic is making things worse. The price of food in Syria has rocketed by 209% over the last year, making a basic basket of products 23.5 times more expensive than it was before the Syrian crisis kicked off in 2011.
Thomas the Kilmarnock cat rumbled for widespread theft
Many thanks to Metro for reporting on Thomas, a cat from Kilmarnock who is known and loved for his thieving ways.
Thomas has stolen many, many items so far, bringing varied and exciting treats home for his owners. He has stolen loaves of bread, rolls and pittas from his local shop. He has nicked socks and pants from his neighbours. He has lifted numerous items from washing lines and stolen all the fish from an ornamental garden pond, laying them out neatly in a row on his owner's doorstep. Thomas nicks teddy bears, too, and his most recent theft was nine pairs of tights, which he embezzled over a period of two glorious days.
The person who wrote this news item has a similar tale to tell, of Steve the cat. Steve is obsessed with washing up sponges and car sponges, which he steals from his neighbours and brings home to shred into tiny pieces with his teeth. Lock up your sponges!
A magical baguette slicer
If you have ever driven yourself to the edge of madness trying to neatly slice a baguette, this one's for you. The new Baguette Bread Slicer by Jean-Patrique Cookware means 'uneven slices and roughly torn chunks' are no longer on the cards. The gadget comes complete with its own bread knife, and consists of an open-topped, baguette-shaped, solid beechwood box featuring parallel knife-shaped slits. All you do is sit your baguette neatly inside the box and draw the knife through the slits for baguette-slice perfection. Phew, that's better.
Heston's latest creative offering – The Full English Sandwich
Creative genius Heston Blumenthal has revealed his latest masterpiece, this time a Full English sandwich. While there's nothing new about putting full-English breakfast ingredients into a buttie, the bread itself is pretty cool, namely baked bean-flavoured bread. As for the fillings, we're looking at a canny blend of smokey sausage, smoked bacon, sliced free-range egg, cold-pressed mayonnaise, tomatoes and cannellini beans in sauce, plus a coffee-flavoured mushroom ketchup. Blimey.
From nought to 200 in no time
One artisan bakery has gone from a simple shop-only business to an online success sending out more than 200 online bakery orders every day. And it has not just survived the pandemic, it's thriving. Bread Source in Norwich didn't sell a thing via their website before Covid-19 struck, now they're selling baked goods online, and they're going like hot cakes.
The bakery kicked off with 50-60 online orders a day, which quickly increased to 200 a day. Now, even though the virus crisis is easing a little, they're still taking around 60 daily online orders, proving that online sales have become part of everyday life. This dovetails well with the Tesco story – the supermarket brand is making thousands of temporary jobs permanent because people's shopping habits seem to have changed for good, with more of us buying online than ever before.
How's things for you?
Things are pretty good for us. What about you? If you're emerging into the brave new foodservice world and want to treat your customers to some of the best artisan breads out there, we'll be delighted to send you a box of samples to try. Just ask, and it will be done.