Bread slippers, flood heroes, beer bread, and flour substitutes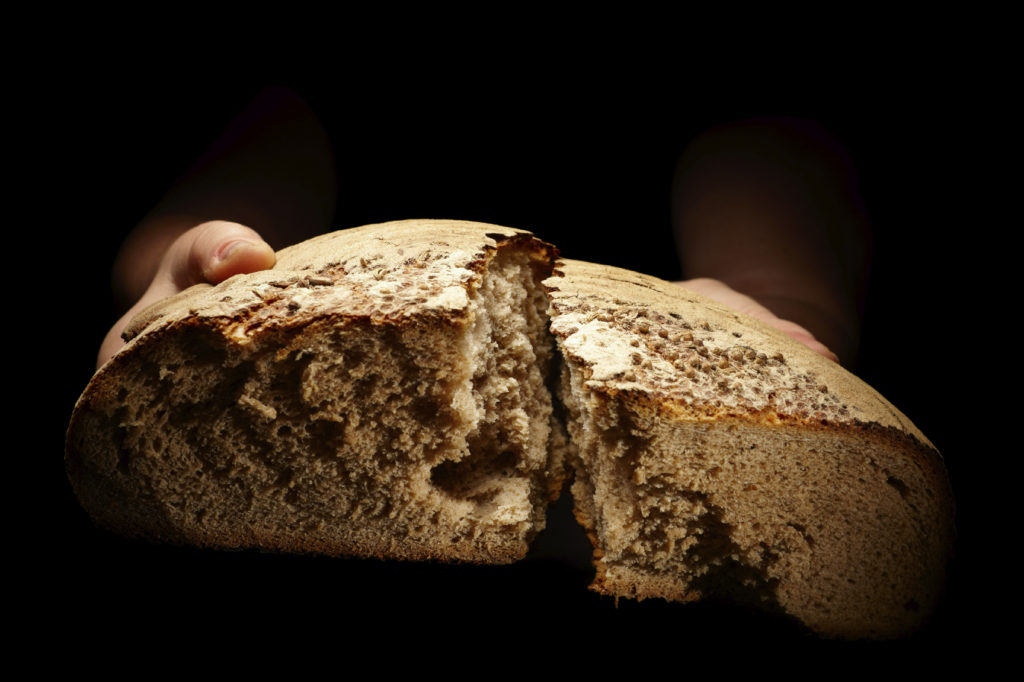 It's all go in the wonderful world of bread this week, with a multitude of quirky bread stories emerging from around the globe. Who knew you can clean wallpaper with a chunk of soft white bread, that beer can be turned into bread just as easily as bread can be turned into beer, or that a cool new machine is helping French bakers slash food waste? Here's the news.
Crazy bread slippers from fashion house Maison Margiela
The luxury French fashion brand Maison Margiela, headquartered in Paris, is loved for its gorgeous haute couture-inspired and ready-to-wear collections. Now it has collaborated with the Estonian rapper Tommy Cash to create slippers that look exactly like bread rolls. From the outside the slippers look so much like freshly baked, golden brown loaves of bread that it's uncanny and, leaving nothing to chance, the inside of each slipper looks exactly like a slice. At 95 Euros a pair, complete with a plastic carrying bag exactly like a regular bread bag, they're the perfect gift for the bread-obsessive in your life!
Aussie bread heroes deliver loaves despite terrible floods
One eastern Australian baker has proved to be a hero, braving the region's worst floods for decades to deliver bread to local people. He's called Albert Vos, and he runs Al's Bakehouse with his wife Deborah. When local man Tim Walker called Al on behalf of King Creek's 1,568 residents, appealing for 200 loaves, the couple and their 11 employees got to work. By early afternoon the same day they'd baked the bread, and stuffed it into 18 crates to be delivered by boat. It took three or four trips to get the bread to the villagers, with the help of the local fire brigade.
Germany's Fuechschen Brewery makes 'spent grain bread' from beer
In the past we've featured clever people making beer out of waste bread. Now, in a satisfying turn-around, we've found a brewery making beautiful bread from beer. Düsseldorf's Fuechschen Brewery was left with 6000L of its famous Altbier unsold thanks to the pandemic. Rather than waste the beer, which was coming up to its expiry date, they decided to partner with craft bakers who were already using leftover grain from the brewing process to make Treberbrot, a kind of bread made from used grain. Now a dozen bakeries are making the bread, and the people who buy it are being treated to a free bottle of Fuechschen's Altbier with every loaf.
How to recycle old bread to make a flour substitute
An innovative new machine is being used by French chefs to recycle old bread into a flour substitute. The machine is called 'Le Crumbler', invented back in 2015 by an urban planner who was fed up with food waste. France as a nation strictly forbids supermarkets from throwing food away, but all the same the country wastes around 150,000 tons of bread every year. Hopefully Le Crumbler will change that.
Clean mucky wallpaper with fresh white bread
English Heritage has resurrected an awesome old-school cleaning tip. If your wallpaper is looking grubby, take one slice of fresh white bread and rub it gently over the wallpaper. It takes off the stains and grease surprisingly well. Apparently stale bread is 'too abrasive', and sourdough also works pretty well.
Bakeries come, bakeries go
For 170 years Hawaii has been home to Love's Bakery, a legend on the lovely island of Oahu and a popular supplier to grocery stores right across the Aloha State. It's all down to the ravages of covid-19, and it's sad to see the bakery will be closing down for good.
It's equally sad to see the last of Little George's Bakery in San Diego, USA, where the 80-year-old owner died after suffering from covid, plus George Weston Ltd in Toronto and Borracchini's Bakery in Seattle, USA. On the bright side the world is seeing a flurry of brand new bakeries that have risen, phoenix-like, from the ashes of the pandemic with fresh ideas, innovative business models, and new products.
Free artisan bread samples, anyone?
Like millions of others we're looking forward to the current lockdown being eased, so we can all start to get back to some kind of normal, the 'new normal', or whatever it's going to be! In the meantime, if you're in foodservice and would like to test-drive our gorgeous breads, please get in touch and we'll zoom a box over to you.