Bread enzymes, bread scaffold, folic acid, bread art and more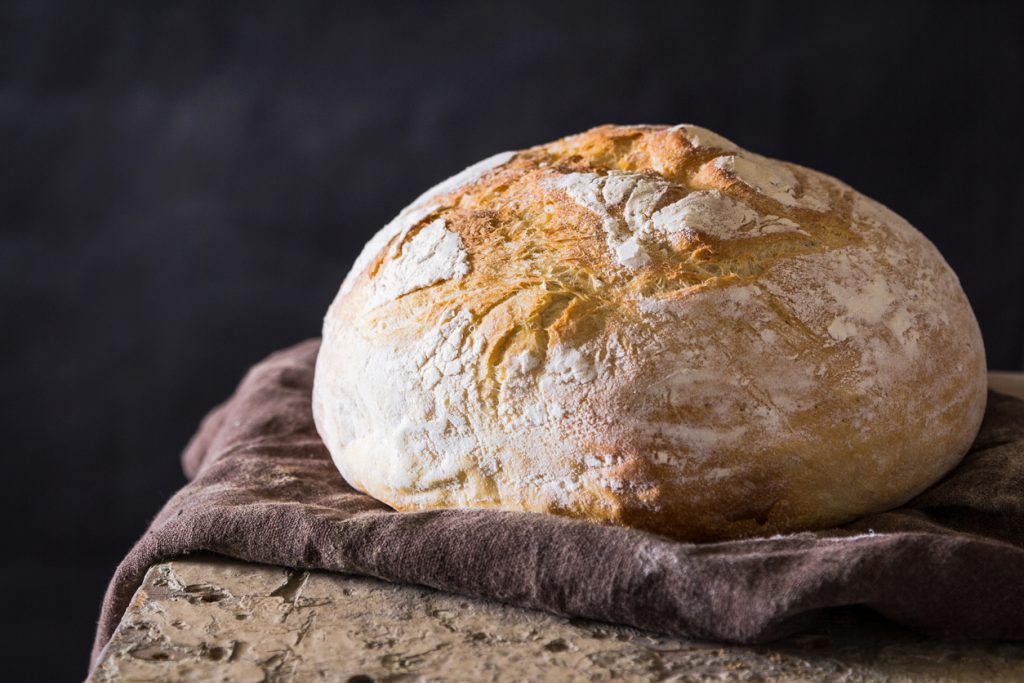 It's all go in the magical world of bread, with changes in the wind for the 'technical requirements' for UK bread and flour production, and brown bread used to keep other foods fresh. We look into the often-weird chemistry of bread, we enjoy some rather marvellous bread art, and we thank our lucky stars we don't live in Nigeria, where bakers seem determined to bake poisoned bread despite appeals from experts and the government.
Tissue engineers have fun with bread scaffold
Yum. A team of tissue engineers in Canada has been experimenting with bread, using it to grow human cells. The best bread to use as a 'scaffold' turned out to be Irish soda bread, which could ultimately be used to grow non-animal meat in factory labs for humans to eat.
Brown bread saves the day for potatoes
Apparently, to prevent parboiled potatoes discolouring, one chef puts a slice of brown bread in the water. Hm. Strange or scientifically sensible?
A sliced spud releases an enzyme called polyphenol oxidase. This kicks off a chemical reaction between polyphenols in the potato and oxygen, making brown patches called melanins appear on the potato. But if you keep oxygen out of the equation, the brown spots don't happen.
Oxidisation can be prevented by storing the spuds under water. Adding an acid like lemon juice or vinegar helps even more, but bread also does a good job. Because bread comes with antioxidant properties, it helps parboiled spuds stay nice and white in water overnight. Wholemeal is better than white, and fresh bread works better than stale.
Folic acid in our bread
The government has agreed to add Folic acid to bread to cut the risk of birth defects, adding it to both white and brown flour. The reduction in birth defects is predicted to be as high as 20%.
Reanimate that stale bread!
Waste not, want not. As the world becomes more attuned to the scandal that is food waste, keen cooks across the world are reanimating stale bread into all sorts of delicacies including the tasty Italian meatballs called polpette, French toast, pita chips, pizza muffins, bread pudding and plenty more.
Bread art thrills punters are Basel Art Fair
Switzerland's Art Basel fair is always amazing, and this time it's going to be more amazing than ever. Take 'Bread House', a slice of sheer brilliance created by the Swiss artist Urs Fischer. As the curator says, the piece, "touches everyone, I think, not only because bread is a very common thing or common metaphor for everybody, but also because it's a piece of art that smells and talks about decay and it's a very poetic piece but also on a sculptural point of view, I think it's surprising to see using bread to build basically a one-to-one house."
Nigerian scientists beg bakers not to make poisonous bread
The message seems to be taking a long time to get through. Nigeria's bakers are still using potassium bromate – a killer chemical – to 'enhance' their bread despite increasingly strong warnings and appeals from the government and nutrition experts. Potassium bromate has a terrible health impact on humans, causing cancers of the kidney, thyroid, and gastrointestinal tract. Officials are doing their best to ram the message home that potassium bromate is a silent killer and should never be eaten, but Nigeria's bakers are ignoring the warnings.
New bread and flour regulations on the way
The nation's Bread and Flour Regulations 1998, the legislation that pins down the technical requirements for bread and flour produced here in the UK, are set to change. The new regulations will take into account the 'essential ingredients' of flour, the permitted ingredients for flour and bread, and the restrictions in place around the words 'wholemeal' and 'wheat germ'.
One of the most important changes concerns flour. Mandatory calcium, iron, thiamine, and niacin must be added to fortify white and brown flour with the exception of wholemeal flour, which is naturally a good source of vitamins and minerals. The review will take a good, long look at the needs of the UK bakery sector, consumers, and the authorities who enforce the rules, all bearing Brexit in mind.
Now we've left the EU, UK products can't enjoy the 'mutual recognition principle'. This means businesses that want export to the EU must first check to see if there are any special rules in the destination market. DEFRA has already removed the mutual recognition provision in the Bread and Flour Regulations 1998 for England and has 'extended an existing defence of selling non-compliant flour destined for export to include a new defence for sale of non-compliant flour to be used to manufacture products for export'. It looks like Wales, Scotland and Northern Ireland will also introduce similar changes.
Remember the Ely bread riots?
In September 1991, 30 years ago, the Cardiff Ely bread riots – also called the Ely petrol riots – took place. It happened in the suburb of Ely, thanks to a dispute between two shopkeepers about who could sell bread and other foods. The troubles escalated into a riot involving as many as 500 people and it took 175 police officers to calm things down. It's a fascinating tale – and you can listen to the details here.
FREE bread!
Yup, free bread. If you're in foodservice and you'd like to taste-test our glorious artisan breads to see how much your customers will love them, we'll send you a big box full to try for yourself. No nonsense, just gorgeous breads baked beautifully then flash frozen in an instant for supreme freshness.