Why bread smells so great, TikTok vegan bacon, Strictly triumph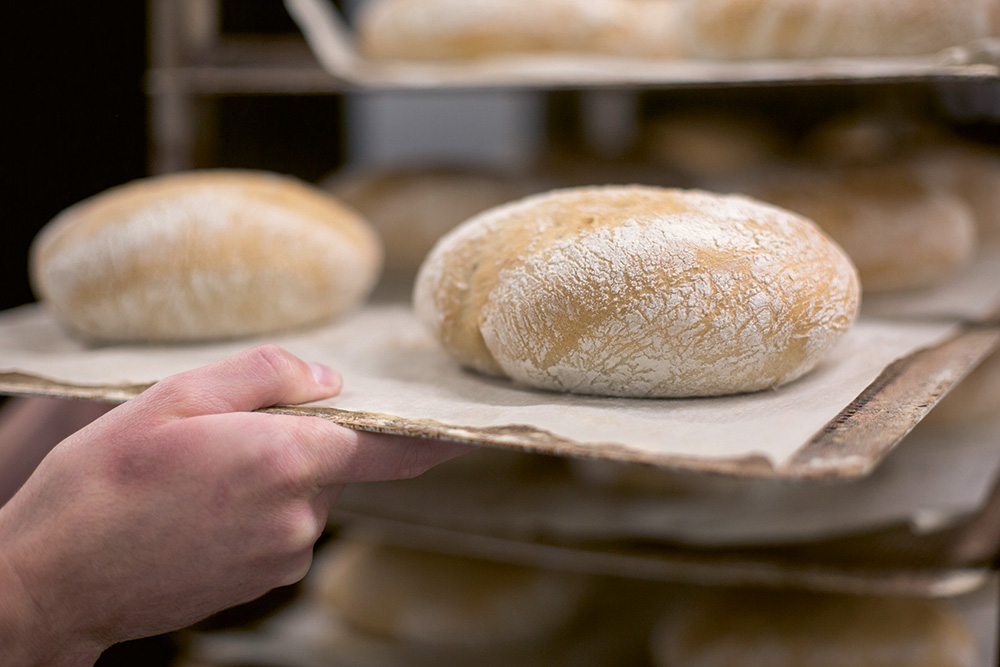 It's just as heart-warming and pleasing as the fragrance of newly-mown grass. But why is the scent of fresh-based bread so good? We'll let you know below. We look at TikTok's latest food craze in the form of an 'interesting' vegan bacon recipe with a quirky bread hack at its heart. And we explore a particularly potent combination: Strictly Come Dancing and The Great British Bake Off.
The fragrance of bread – 'Indescribable in its evocation of innocence and delight'
As the US food writer MFK Fisher once said, the scent of bread being baked is "indescribable in its evocation of innocence and delight." Now scientists have revealed why humans love the scent of fresh-baked bread so much that it makes 89% of us feel happy. And it turns out that our best memories associated with bread are all about our mums.
The research, which took place at The University College Dublin Institute of Food & Health, revealed almost 90% of us feel happy when we smell bread being baked, and 63% say it brings back happy memories.
Dr Amalia Scannell and her team found a loaf of bread contains more than 540 distinct 'volatile compounds', the chemicals that create smells. Fewer than 20 of them go towards making that unique bread smell, which together deliver 8-12 of the key scents contributing to bread's unique aroma.
So far, so good. But why do so many of us love the smell so much? The eggheads believe it's all about something called odour-cued memories, namely old memories from the first ten years of our lives. Apparently the best-loved memory evoked by bread scent, pinned down by 29% of the 1000 people asked, involved the word 'mother' or 'mum', and 20% involved the word 'childhood'.
TikTok goes crazy for vegan bacon made out of bread
They're at it again, this time with a slightly suspect bread-led vegan food hack for 'bacon'. So how, exactly, does a TikTok fan craft vegan bacon out of a simple slice of the white stuff? It's basically about flattening then frying flavoured bread so it achieves a bacon-like texture, pre-seasoning it to add a 'meat-like' flavour. Hm.
Your ingredients are… one loaf of sliced bread, some soy sauce, maple syrup, olive oil, garlic powder, Monosodium Glutomate, and Tabasco's brand of Chipotle Pepper Sauce. All you do is roll your slice of bread flat, cut it into bacon-like strips, then bash the strips mercilessly to flatten them even more. Mix a marinade out of all the ingredients. Soak the flattened strips of bread in it for a minute. Then cook them on a skillet at a medium to low heat, turning them every few seconds until they get crisp.
If you give it a go, let us know what it tastes like. Personally, we would rather not!
TGBBO and Strictly – A combination baked in heaven
TGBBO and Strictly – what a combo! When the Great British Bake Off's 2012 winner John Whaite topped the Strictly Come Dancing leader board with a vibrant rendition of a bakery-inspired Charleston, the judges went wild. John, who is 32, is dancing with the brilliant Johannes Radebe, half of the show's first ever all-male dancing partnership. The pair scored a flavoursome 38 out of a potential 40 points on Saturday night, dancing to the wonderful 'Milord' by Edith Piaf.
Tesco suffers from incontinence
Honestly. Thanks to social media, one cannot get away with anything. When Tesco's bakery people made a selly spolling mistewk recently, the whole nation giggled along. The hand written sign went viral after shoppers spotted the mistake, leaving some of them confessing they'd been 'peeing themselves laughing'. A staff shortage at the store means there was a lack of bread on the shelves. This was explained by a sign saying: 'Apologies for the incontinence'.
Bread's popularity expands and grows
We're amazed by how many new bakeries are popping up across the nation right now, and how many existing bakeries and baked goods outlets are expanding. It just goes to show how much Brits love great bread.
Stone Bakery in Northern Ireland is creating 20 new jobs. One Market Drayton bakery is taking on 'dozens' of new staff. Pudsey, Edinburgh, Whitley Bay, Northwich, and the London Borough of Bermondsey are all seeing brand new bread and baked goods outlets opening on the high street. And one innovative Lambeth women is about to launch a new local bike delivery bakery business after being made redundant twice in the last few years. We salute you, Emily Banham.
Taste the difference – Serve real speciality breads
Our foodservice clients deserve the best. We bake the best artisan breads in town. It's a great match. Just ask and we'll send you a free sample box of flash-frozen goodies, designed to delight.