Plant-Based Perfection For 2023 – New Plant-Based Brioche, Teacakes and American Buns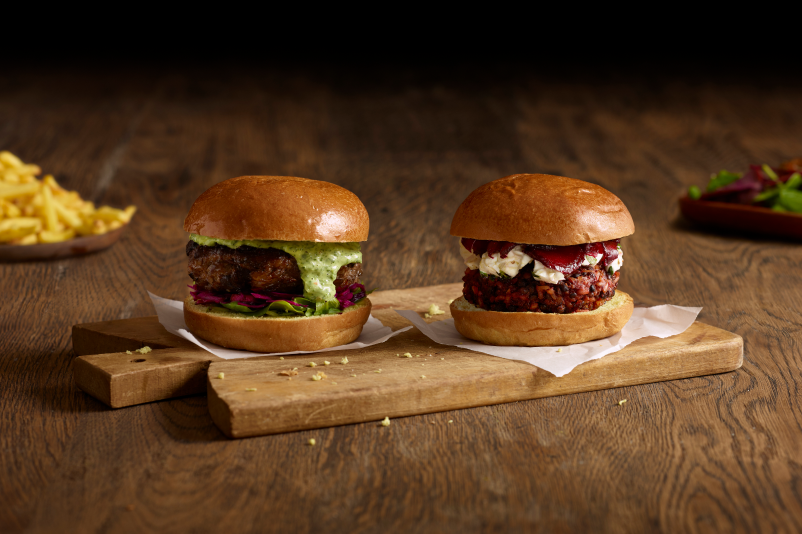 We're kicking 2023 off with some big product announcements. We had a specific goal in mind for our 2023 product releases, and the outcome could only be perfection. We wanted to introduce some fabulous plant-based bread to the market that had never been seen before and what better time to introduce them than Veganuary?
Plant-Based Brioche Perfection
We began by focusing on our best-selling brioche range, aiming to create a plant-based brioche that would rival any traditional brioche in flavour, texture and appearance. This challenge was exceptionally tricky as brioche dough is usually full of eggs, butter, and milk but after months of testing, our product development team cracked the code!
Like traditional brioche, our plant-based brioche range complements sweet and savoury dishes. The loaves are ideal for thinly slicing, toasting, and serving with pâté, while the buns are great for a hearty burger or used in a dessert.
To test the brioche buns we sent them to Gareth Attwell, Chef of the Year at the National Burger Awards 2020. He gave the following glowing feedback:
'I really liked the bun. It's a lovely size and toasted really well creating a lovely texture. It soaked up all the burger juices and sauces so well and didn't break up at all. I also liked the colour of the bun too it had a great glaze on it and a nice rich butter colour inside.'
– Gareth Attwell, Chef of the Year at National Burger Awards 2020
Here you can watch the video where he creates some delicious burgers to celebrate the release of our plant-based brioche range!
Terrific Teacakes
Our teacakes are jam-packed with fruit. Tasting utterly divine they're perfect served as part of an afternoon tea or simply as a sweet treat. We've created a plant-based version of both our fruited and luxury cranberry teacakes. Still, with the same delicious taste they're excellent for toasting and topping with dairy or plant-based butter.
Awesome American Buns
​Completing the plant-based range are our American buns, the Tennessee and Alabama. Showcasing a unique look with their beautiful reddish colour and crinkled tops they are the buns of choice for all things BBQ. With a strong but fluffy crumb structure, they absorb all the sauces and juices from BBQ classics like pulled pork or brisket without collapsing in your hands.
Why Plant-Based is Important
With the rise of vegan and flexitarian diets, it's essential to keep every customer happy with our fantastic options for all. We created our new plant-based range so everyone can experience the best. They've been designed to be eaten and enjoyed by all consumers so no one has to go without. Also, having one bread means that precious kitchen space is saved.
As these breads are plant-based they don't contain any products of animal origin, and because of this, they have a lower environmental impact as there's no dairy in them. The plant-based butter we've chosen has an environmental impact that is three times lower than dairy butter as less land, water and CO2 are used when creating the plant-based butter. This is important to help reduce our environmental impact which is part of our bigger goal of going net zero by 2030.
If you want to sample any of these delightful new breads we're always happy to send out free samples to anyone in the foodservice industry.